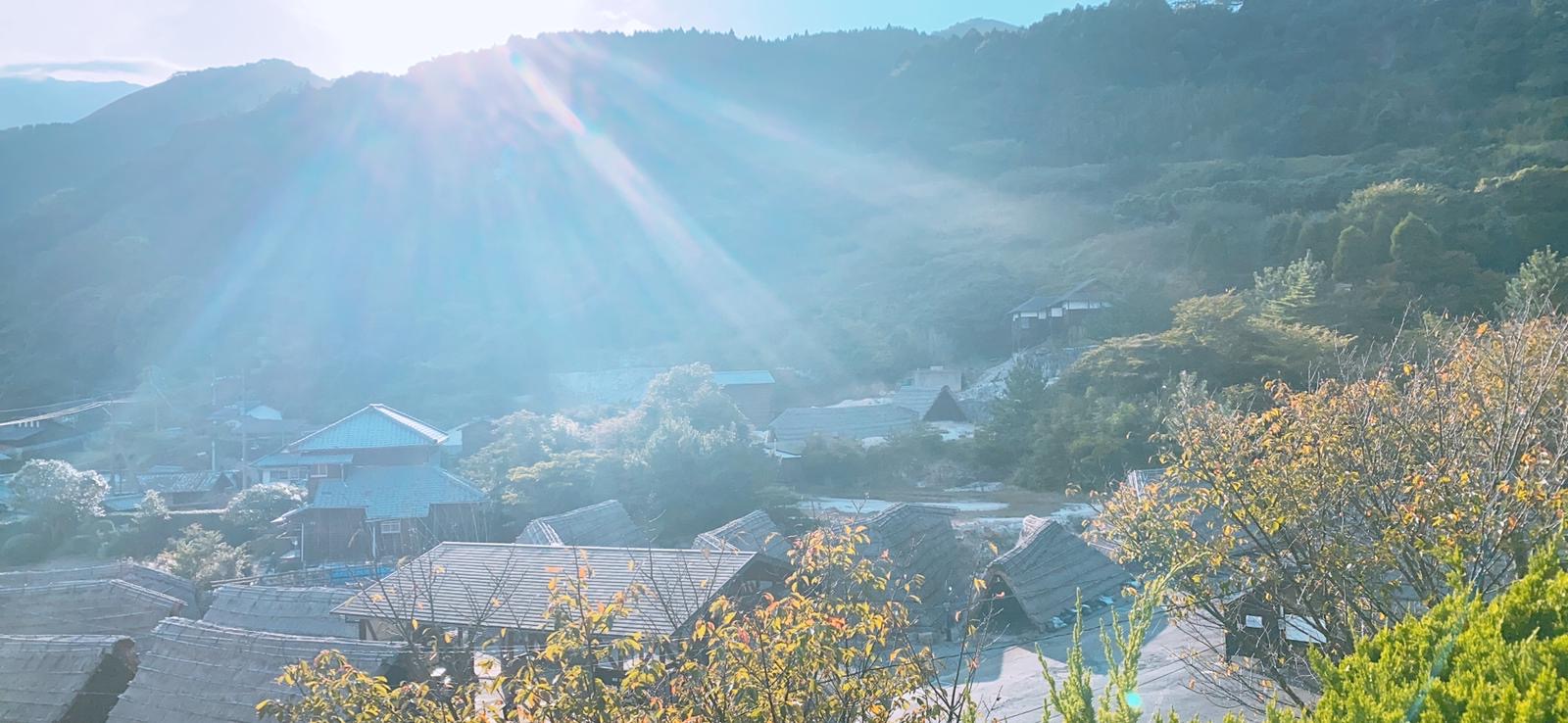 Myoban Onsen, with its streets lined with traditional hot spring inns, offers scenic views reminiscent of Japan's original landscape. Even though it is located in a mountainous area a little far from the center of Beppu, Myoban Onsen draws tourists from all over Japan and the world. Today, I would like to introduce you to the Jigoku-mushi onsen tamago (hot spring egg steamed in the jigoku) that you can eat here.
What Is Jigoku-mushi?
Jigoku-mushi is a cooking method unique to Beppu that uses the natural heat of the steam from the jigoku (hell or hot spring). Practiced since the Edo Period (1603 – 1868) and is still used today in Beppu to create a variety of dishes.  The Jigoku-mushi Onsen Egg is an example of this method.
Strolling In Search Of A Unique Hot Spring Egg In A Steaming Hot Spring Town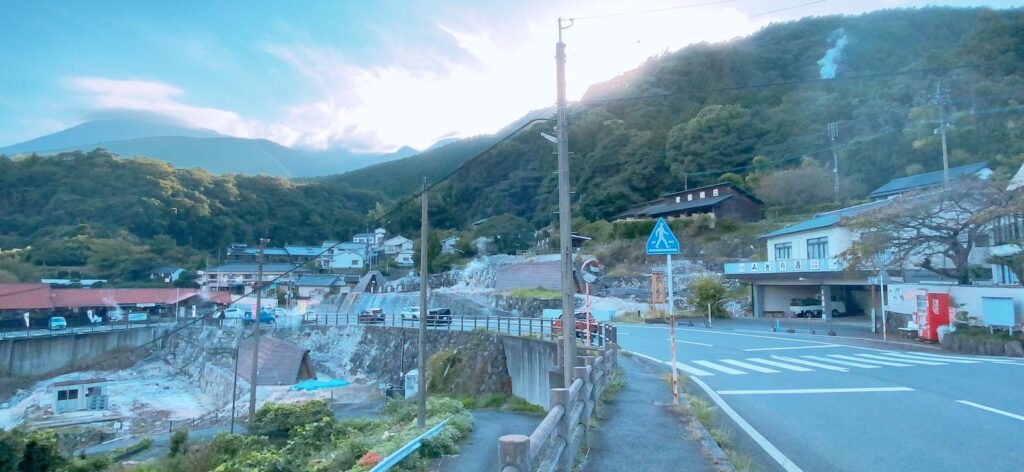 It takes about eight minutes by taxi from Beppu City center to Myoban Onsen. Surrounded by mountains and greenery, you will be impressed by the tranquil atmosphere of this traditional hot spring town.
Yunohana Hut and Okamoto-ya, which we will visit this time in search of hot spring eggs, are located close to each other. I recommend that you go to Yunohana Hut first and then stop at Okamoto-ya to try both!
Hot Spring Eggs at Yunohana Hut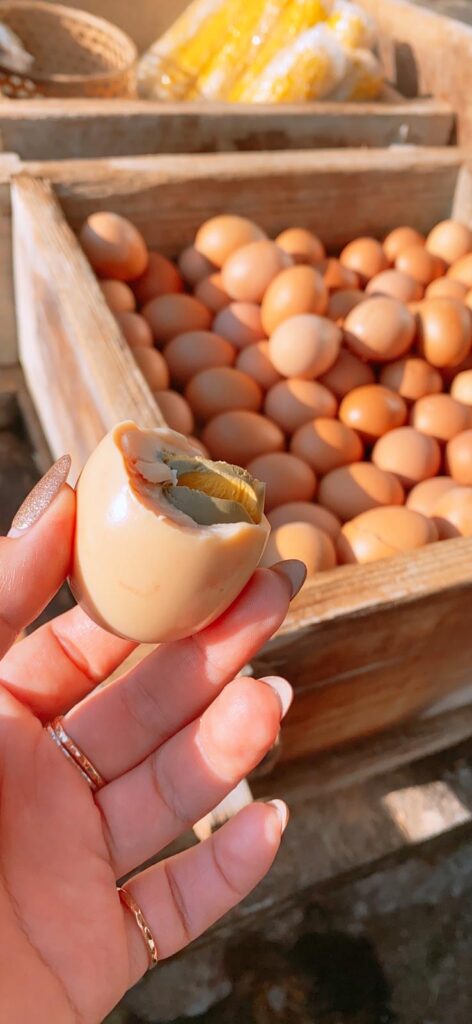 First, we tried the Jigoku-mushi Hot Spring Eggs sold at Yunohana Hut. They are slowly steamed for 22 hours, so the eggs are colored like a smoked egg and have a hint of saltiness. They were well-seasoned and tasty. The price was reasonable at 50 yen each.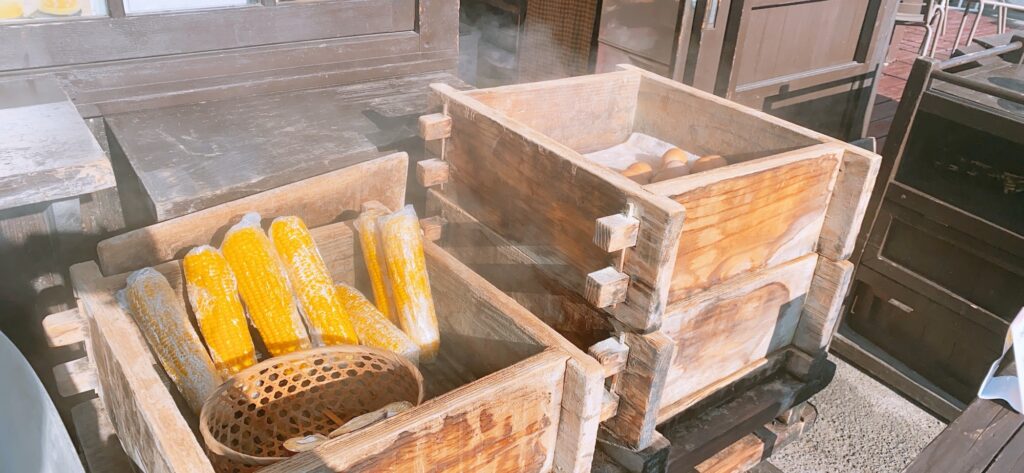 Yunohana Hut also sells steamed corn, Jigoku Onsen Pudding and chimaki (steamed rice with many ingredients wrapped in leaves). They also sell hot spring sodas and onsen soft-serve ice cream, perfect for a quick break during your trip. There is also a table next to the restaurant so you can eat outside.
There was also a steamer nearby. The steam rises non-stop, so you can smell the natural sulfur scent of the hot springs wherever you go.
Yunohana Hut
Opening hours: 8:30-17:30
Website:http://yuno-hana.jp/baiten/yuan.html
Jigoku-mushi Hot Spring Eggs At Okamoto-ya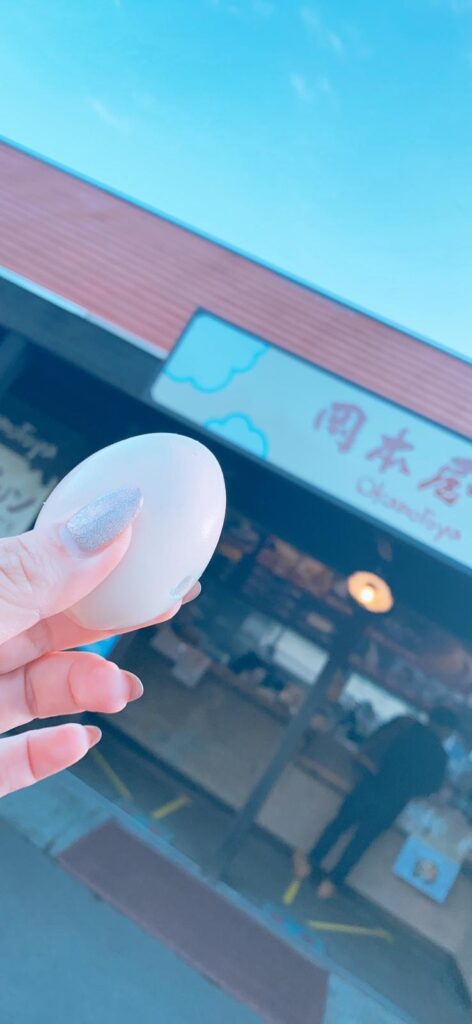 Okamoto-ya is famous for its Jigoku-mushi Pudding. Here, you can also have Jigoku-mushi Hot Spring Eggs made using the steam of Myoban Hot Spring. The salty taste of the hot spring pudding is very good. It's simple but addictive.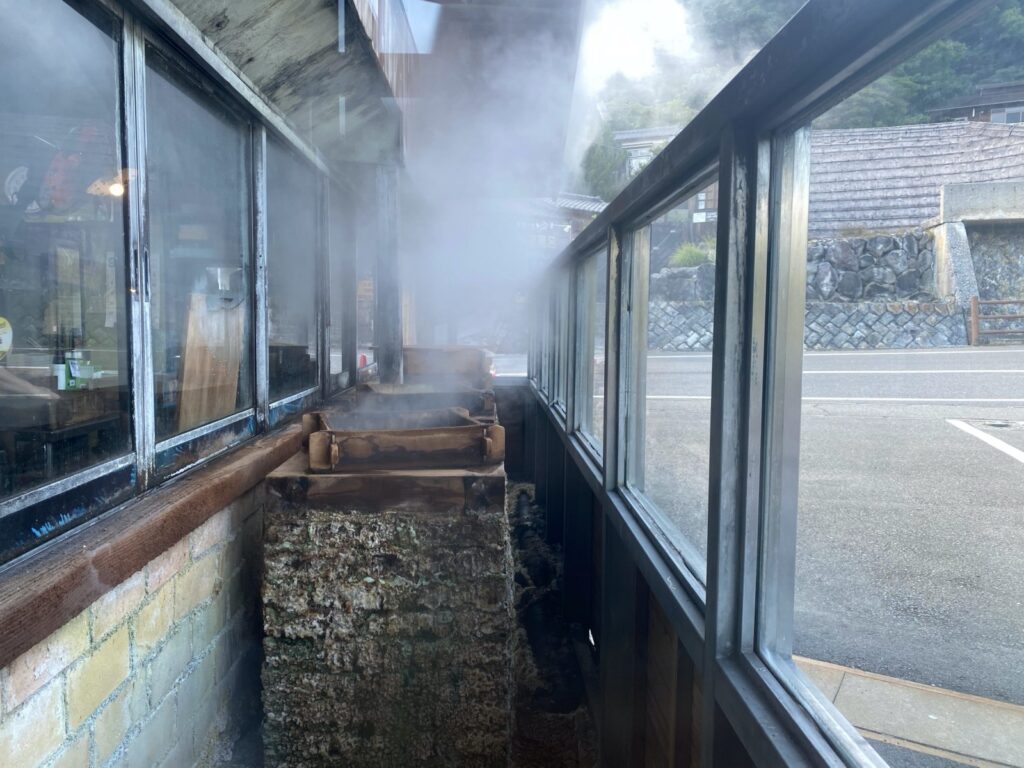 This steamer is used to make Jigoku-mushi Hot Spring Eggs and Jigoku-mushi Pudding. You can read more about Okamoto-ya's Jigoku-mushi Pudding in our article, so be sure to check it out.
Comments are closed.