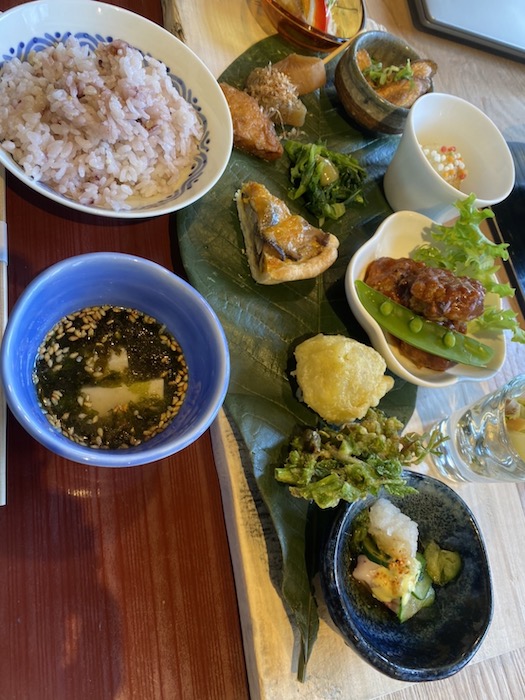 One of the best ways to enjoy Beppu is to visit the charming hidden cafes and lunch spots scattered throughout the city! Today, we will introduce Wakura, a Japanese style shop and cafe that is a local favorite and also popular with couples.
Lovely location with a sense of nature
It was a beautiful day in late March when I headed for Wakura. The weather was warm and sunny, so I drove with the windows open.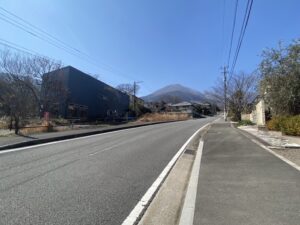 After strolling for a while in a quiet area away from the bustling downtown, we saw the sign for Wakura.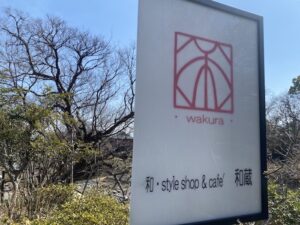 Nestled in a natural mountain landscape, the air around this neat and slightly modern building is filled with the chirping of birds. It feels like something out of a fairy tale.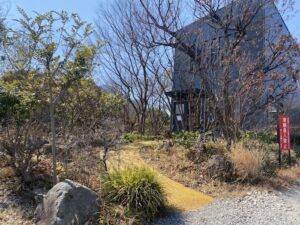 We arrived before noon, but the restaurant was already packed. Encouraged by the beautiful day and capacity restrictions due to COVID, we waited outside in the fresh air until a table became available. 
We wandered about the area for about 20 minutes enjoying the sunshine and scenery. The waiter came out to find us and let us know our table was ready, so we eagerly headed inside for lunch.
A variety of colorful and deliciously healthy dishes
We were shown to a nice table with a view of the outside. Plum blossoms were blooming here and there.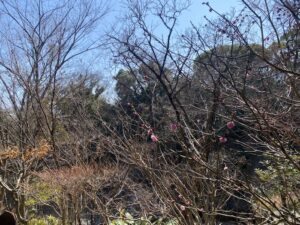 Below is a list of some of the sets available.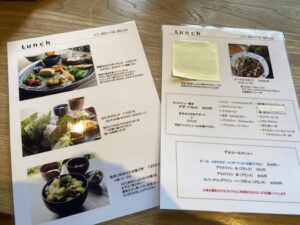 Seasonal Souzai Lunch ¥1,250

Omusubi (Rice ball) Lunch ¥1,100

Shrimp and Scallop Kakiage Donburi (Rice bowl) ¥1,200

Beef Stroganoff ¥1,200
*The menu may change depending on the season. 
* Please note that it is an additional¥300 for dessert and drink sets.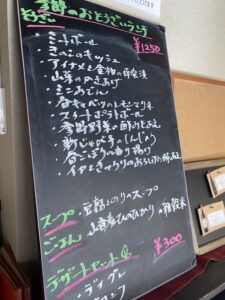 The contents of the Seasonal Souzai Lunch Set are written on the blackboard, and the selection changes depending on what is in season throughout the year. Souzai or small side dishes served during a meal, and this lunch set presents a stunning palette of them for visitors to sample for a taste and feel of the area. On this particular day, eleven different kinds of Souzai were served along with soup and rice made with mixed grains.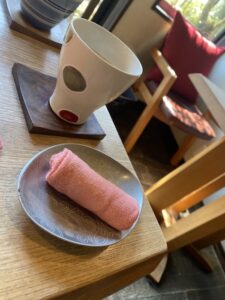 While waiting for our meals to arrive, we looked at the various items – necklaces, earrings, and other small gifts and souvenirs – available near the reception desk. Food and ceramics, such as plates and bowls, were also for sale.
The Seasonal Souzai Lunch soon arrived. The beautiful array of colorful vegetables artfully arranged in a variety of different plates and bowls was satisfying just to look at; however, we were also hungry, and soon dug into our meals.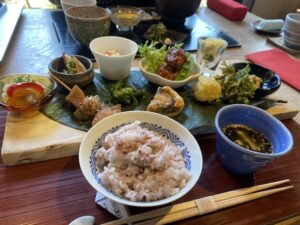 My top three souzai 
I loved each of the eleven different souzai, but the three listed below were particular favorites. Granted, this might change depending on the season, so we will just have to come back to investigate!

No. 3: Mushroom Quiche
The crispy texture of the crust and the chewiness of the mushrooms are a perfect match. The seasoning is not too strong, so the flavor of the mushrooms comes through perfectly in this Western-style dish with a Japanese flavor.
No. 2: Sweet Potato Balls
This dish is just sweet in every sense! are just sweet! However, it is not the sweetness of sugar but the natural sweetness of the sweet potato that makes this so perfect. 
No. 1: New Potato Shinjo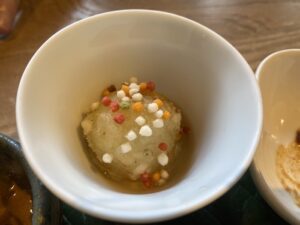 Imagine the perfect mashed potato topped with small pieces of crispy fried rice with just right amount of umami-filled dashi, and you have this dreamy dish. Made from new potatoes, this is a perfect way to savor the season. 

All of the dishes were spectacular and paired well with the mixed grain rice. Please try them and find your top three!
A blissful dessert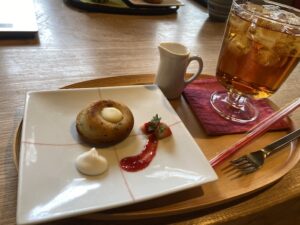 I also ordered dessert, a financier, a small French almond cake, served with iced tea.
Served with a bit of whipped cream and jam on the side, the financier was moist and firm, and just the right size for a satisfyingly sweet ending to our meal.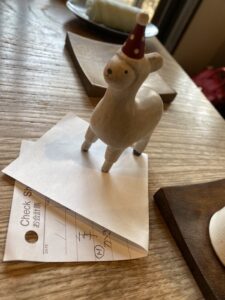 All in all, this is now my personal favorite spot for lunch in Beppu. The setting, the menu, the artfully delicious menu that changes with the season make it easy to return again and again. It is perfect for singles, families, couples, or simply gathering with friends. 
—
Store Information
Wakura
Hours: shop 10 am – 7 pm, café 11 am – 6 pm
Holidays:Tuesdays, 1st and 3rd Wednesdays (Closed on other seasonal holidays)
Address: 1-3 Ogiyama, Beppu City, Oita Prefecture
Phone number: 0977-24-0898
Website: https://wakurastyle.jimdofree.com/
*This article is current as of September 15, 2022. Please check the official website.
Comments are closed.