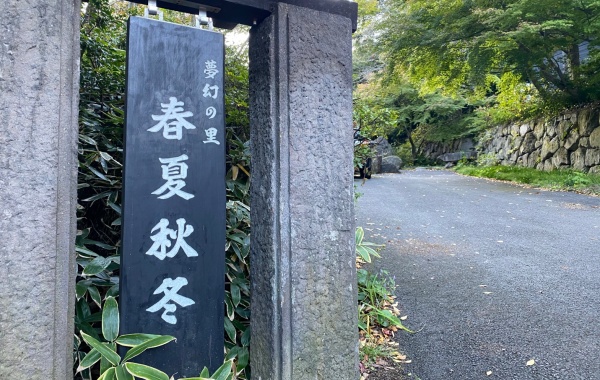 Today I would like to introduce Mugen no Sato: Spring, Summer, Autumn, and Winter, a one-day hot spring facility located in a mountain village a little ways from the city center. The open-air baths are set in a lush green environment, far from the hustle and bustle of the city. Here you can enjoy a relaxing soak in Beppu's famous hot spring water.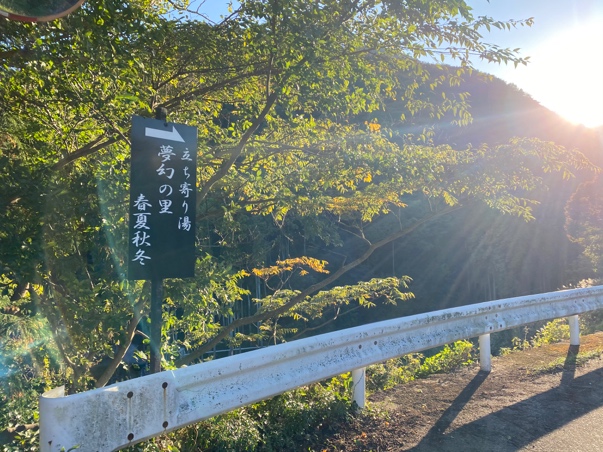 This time, I headed there on foot from Terrace Midobaru, which I introduced earlier. It took about 10 minutes to get there. There are signs like this on the road. The scenery is so beautiful that it is fun and refreshing to walk.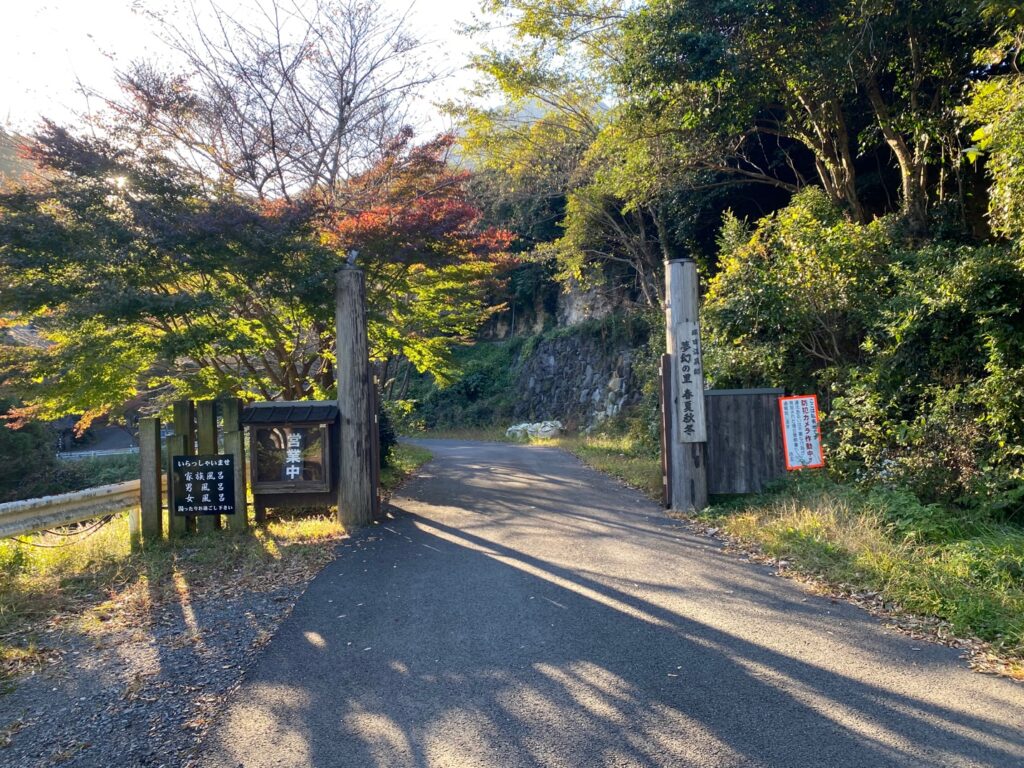 This is the entrance. It's in the middle of a lush green mountain, so it has a hidden hot spring feel to it.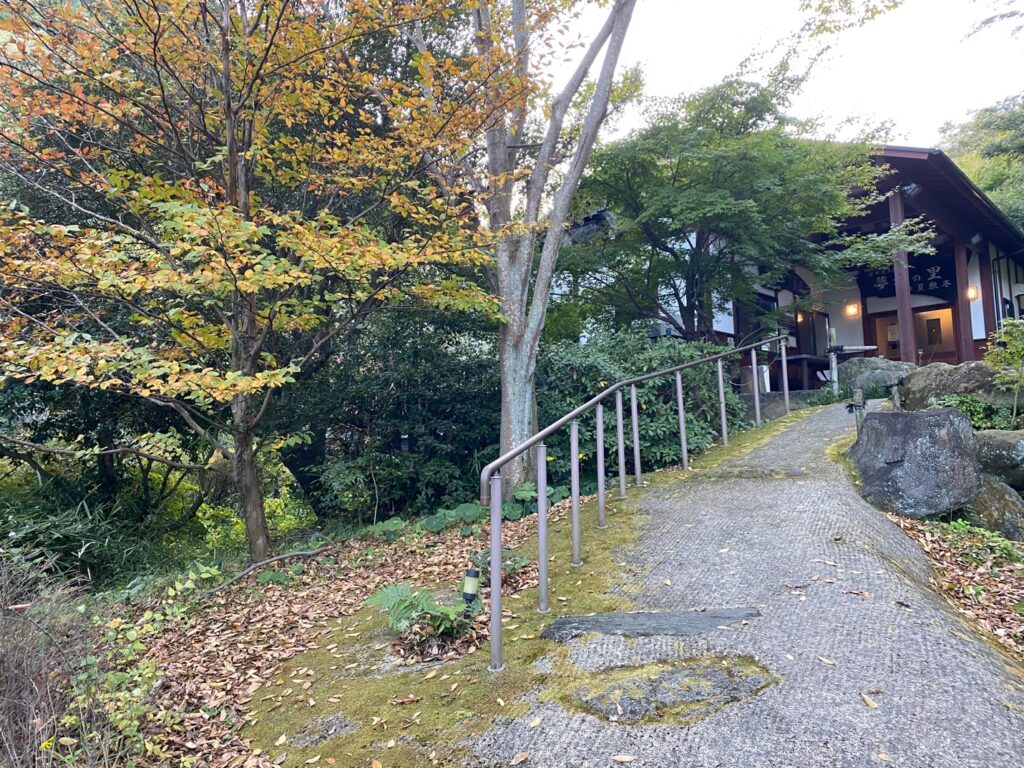 As I walked further in, I saw the building that is Mugen no Sato: Spring, Summer, Autumn, and Winter.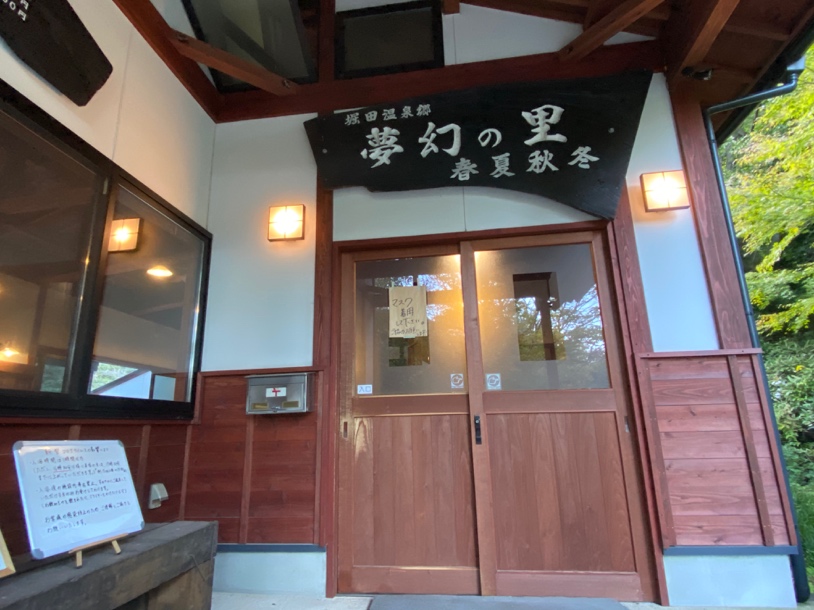 Let's go inside.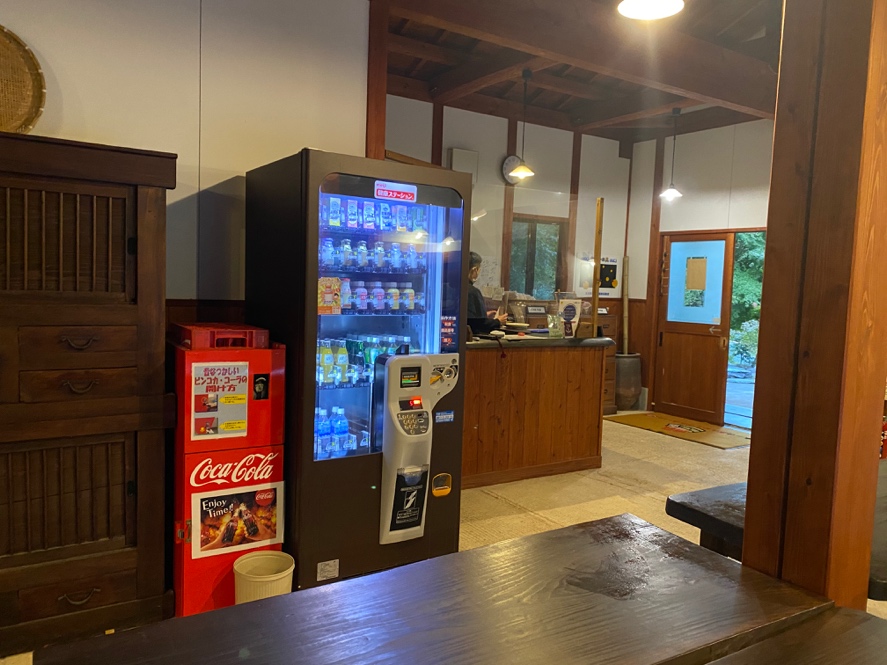 The facility is quiet and has a relaxed atmosphere. At the reception desk, you can choose your hot spring plan. Mugen no Sato has three private hot springs and one large bath. This time, I chose the Tsuki-no-yu private hot spring.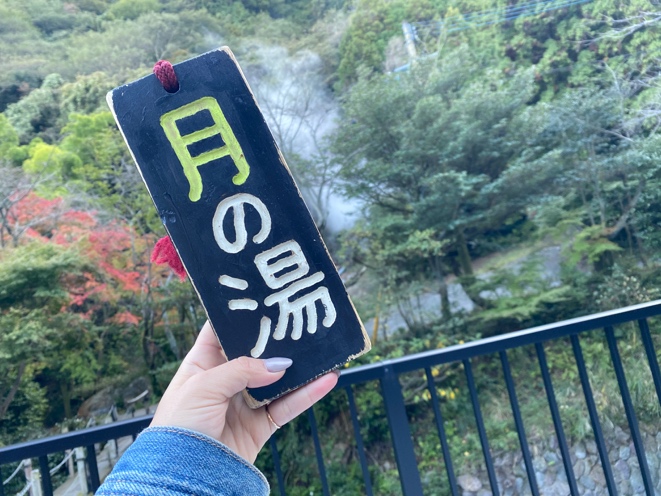 Hang this tag on the door of the hot spring you wish to enter.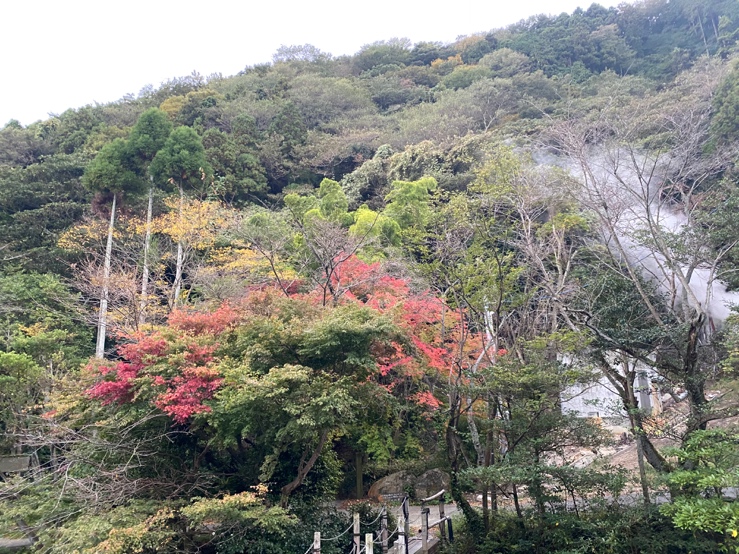 On the way to Tsuki-no-yu, you can enjoy the scenery of a mountain village rich in nature. The smoke from the hot spring is also very atmospheric.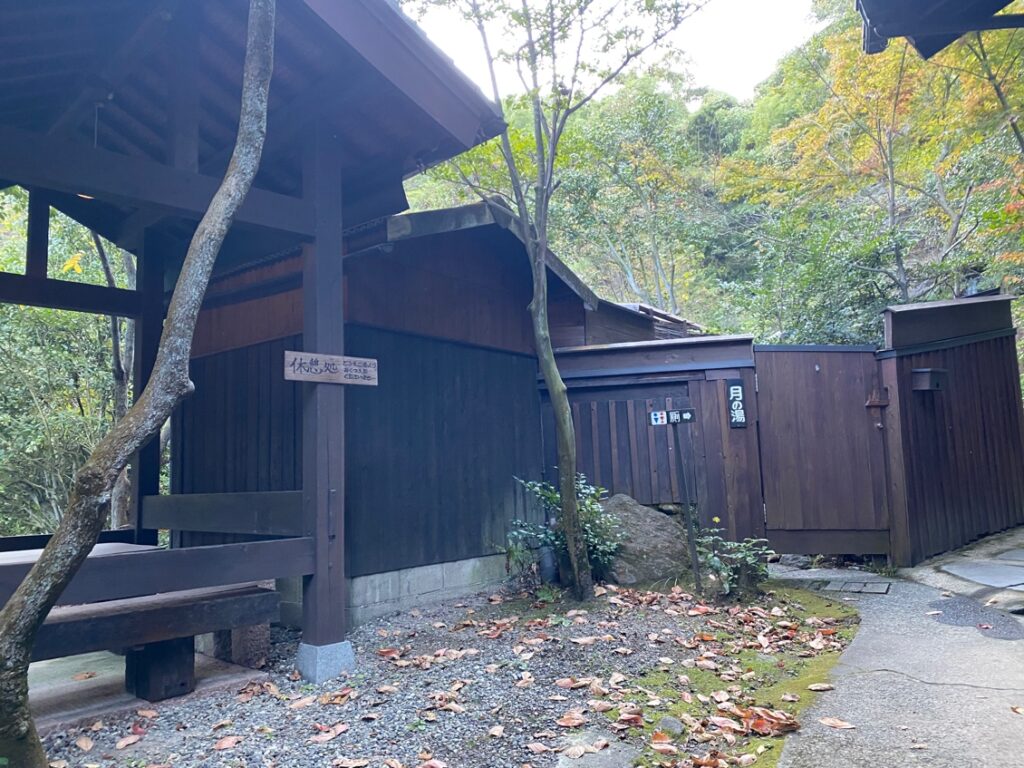 This is the entrance to Tsuki-no-Yu. There is a hut next to the entrance, and inside the hut is the changing room.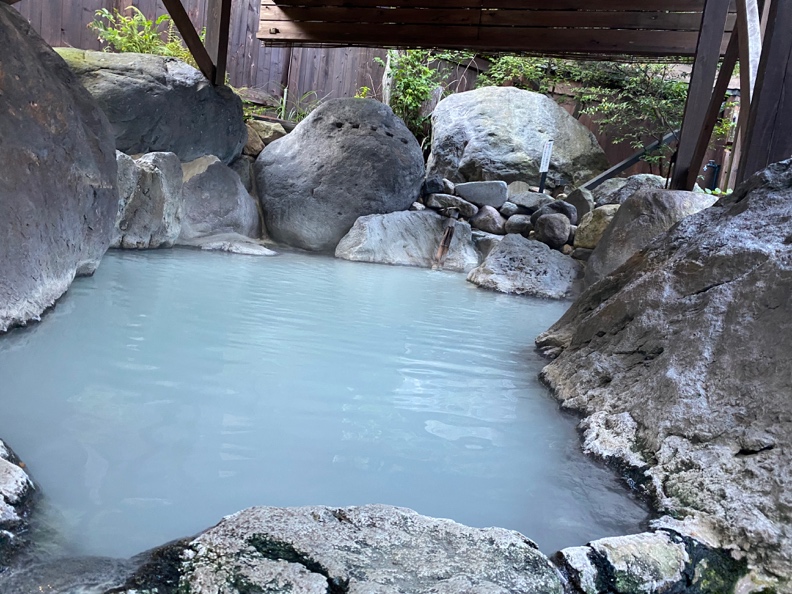 As you soak and warm yourself, you can hear the murmuring of the stream in the calm and quiet. The surrounding scenery of autumn leaves is so beautiful that it seems to carry away your mind. I truly felt as if I were bathing in nature while having a luxurious hot spring experience.
After enjoying Tsuki-no-yu for a full hour, I was given a special tour of the most popular private hot spring, Taki-no-yu.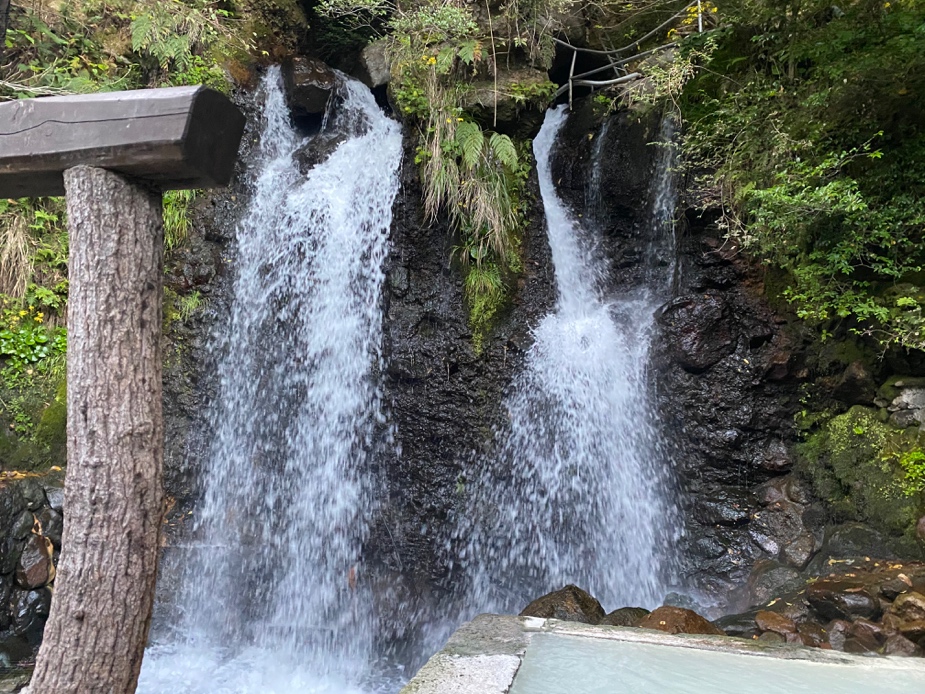 As the name implies, there are two waterfalls in Taki-no-yu, and you can feel the negative ions all around restoring your health and well-being.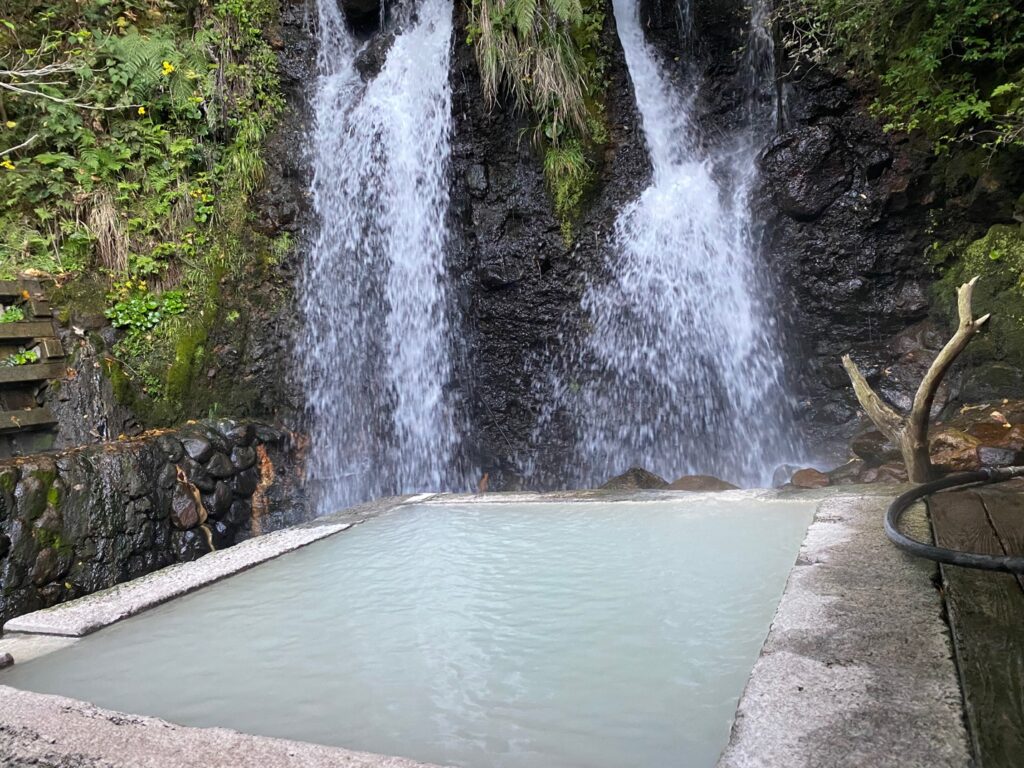 It's a spacious place.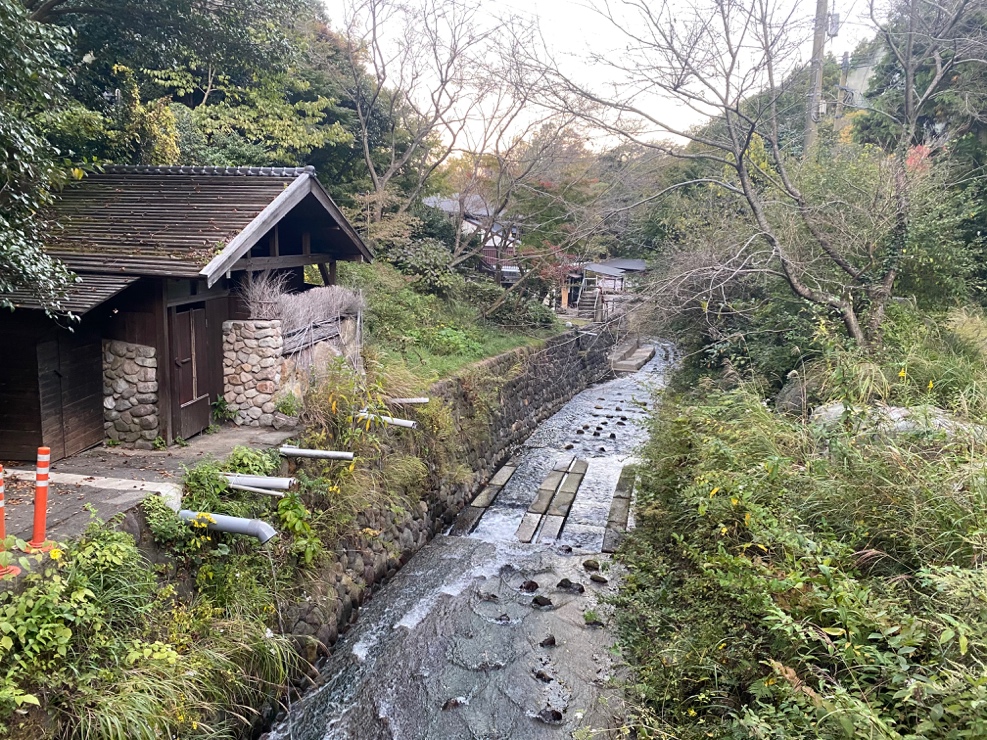 The waterfall of Taki-no-yu flows through the site as a river, which is pictured above. The water is so clear that you can see all the way to the bottom, and you can even see fireflies in May.
The quality of the water at Mugen no Sato: Spring, Summer, Autumn and Winter comes from a simple sulfur spring. It is said to be effective in treating muscle pain, chronic skin diseases, gout, high blood sugar, and high blood pressure.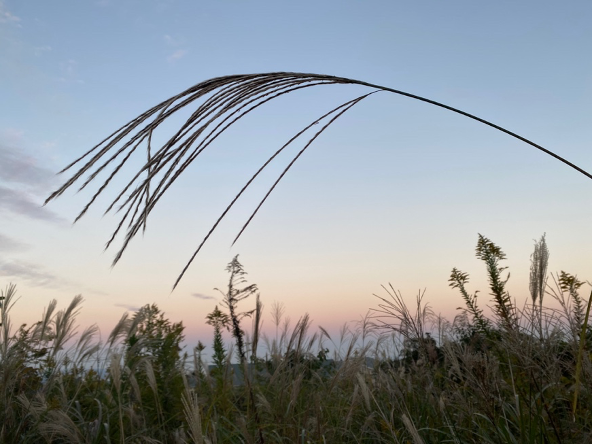 On the way back, the sun was just setting. Beyond the shadowy fields and mountains, the twilight sky was so clear and pale that I couldn't help but smile.
Mugen no Sato: Spring, Summer, Autumn, Winter Basic Information
Address:6, Horita, Beppu City, Oita Prefecture
Opening hours: 10:00-18:00 (last admission at 17:00)
Telephone number: 0977-25-1126
Charge
(60 minutes on weekdays, 50 minutes on weekends and holidays)
Private bath: Tsuki-no-yu: 2,800 yen
Private bath: Hotaru-no-Yu: 2,500 yen
Private bath: Taki-no-Yu: 3,000 yen
Large bathroom: Adults: 700 yen, children (3 years old – elementary school students): 300 yen
Private baths have a capacity of 4 persons.
Comments are closed.