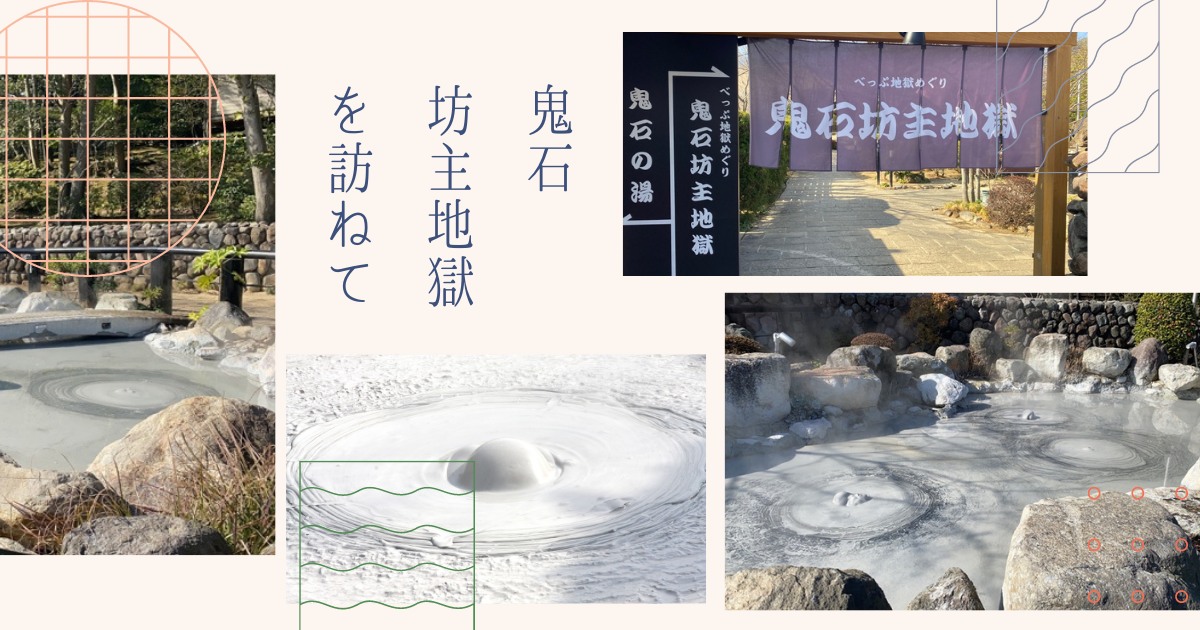 This time, I would like to introduce you to Onishi-Bozu Jigoku or Hell, one of the most popular hells in Beppu! Onishi-Bozu Jigoku translates as 'Hell of the Monk's Head' and is named after the bubbles that form in the hot mud, causing it to swell up like a shaved head.
Tourism here started after the Meiji Era (1868-1912) but at that time it was called Bozu Jigoku or Monk's Hell. However, it closed for a period of time and when it reopened in November 2002, the name became Onishi-Bozu Jigoku. This also makes it a relatively new addition to the Jigoku Meguri or Hell Tour.
I should point out that this is a different spot from Monk's Hell that I wrote about earlier.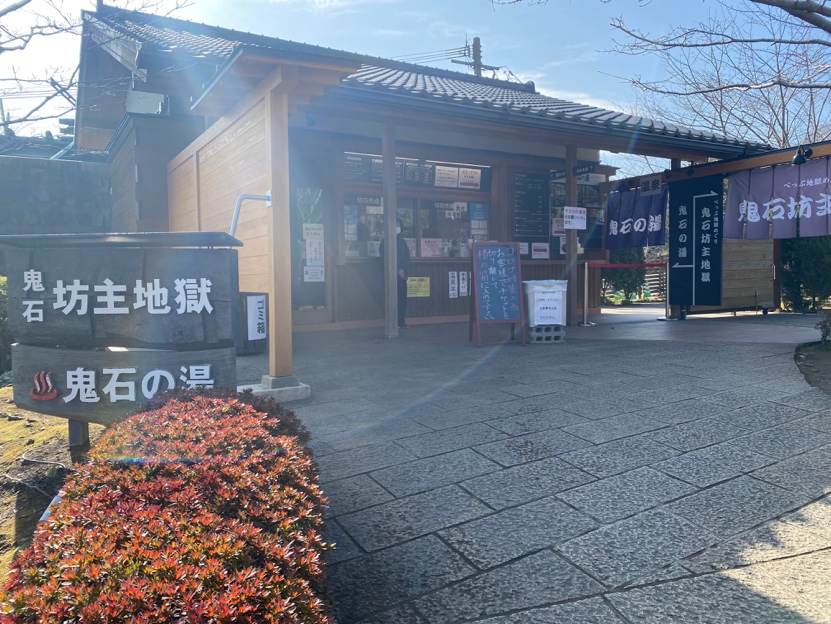 The history of Onishi-Bozu Jigoku itself is very old, having been recorded in the Bungo Fudoki, an ancient report on provincial geography, culture, and traditions, around the 5th year of the Tenpyo Era (733). At that time, it was a very difficult place for people to live because the hot mud made it impossible to grow rice. However, this natural phenomenon became a topic of conversation among people, and over the years it became a popular tourist spot. Even now, it remains a popular place to visit.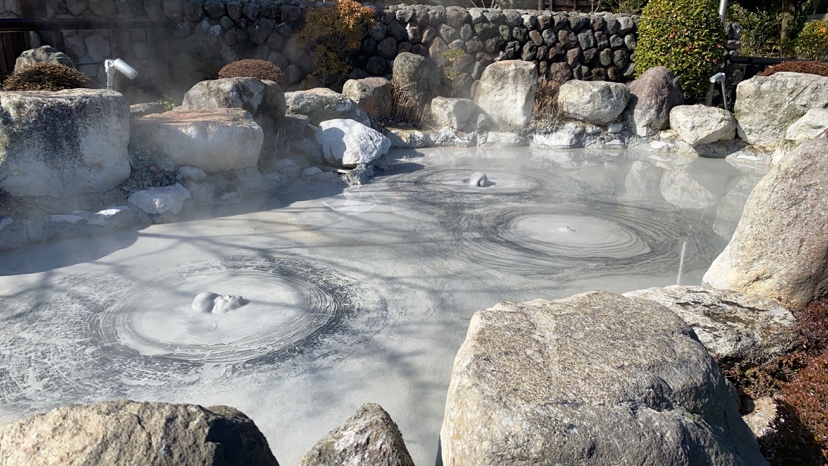 Onishi-Bozu Jigoku is also adjacent to Umi Jigoku, and you can use the same pass for the Jigoku Meguri tour. Let's go inside!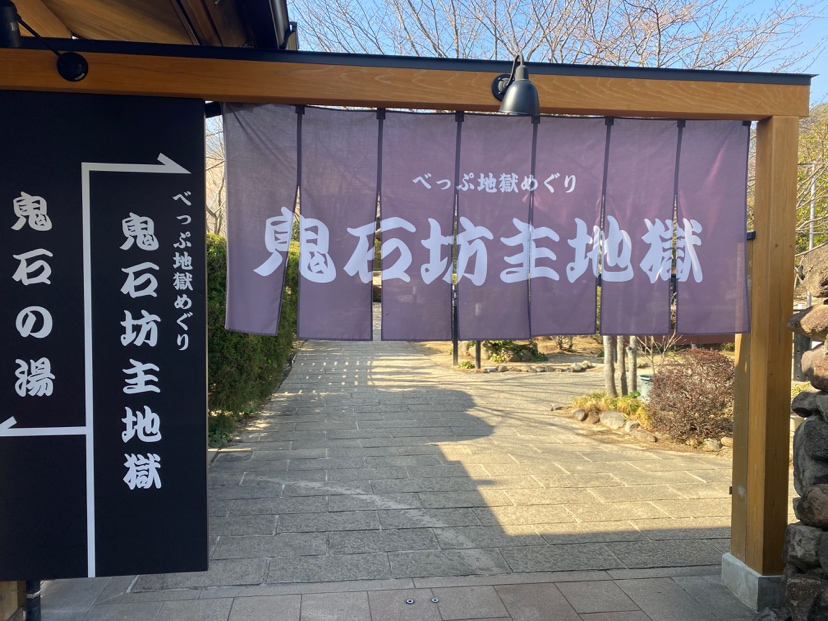 It was a beautiful new building, and when I entered it, it was like a large garden. Next to it is a hot spring.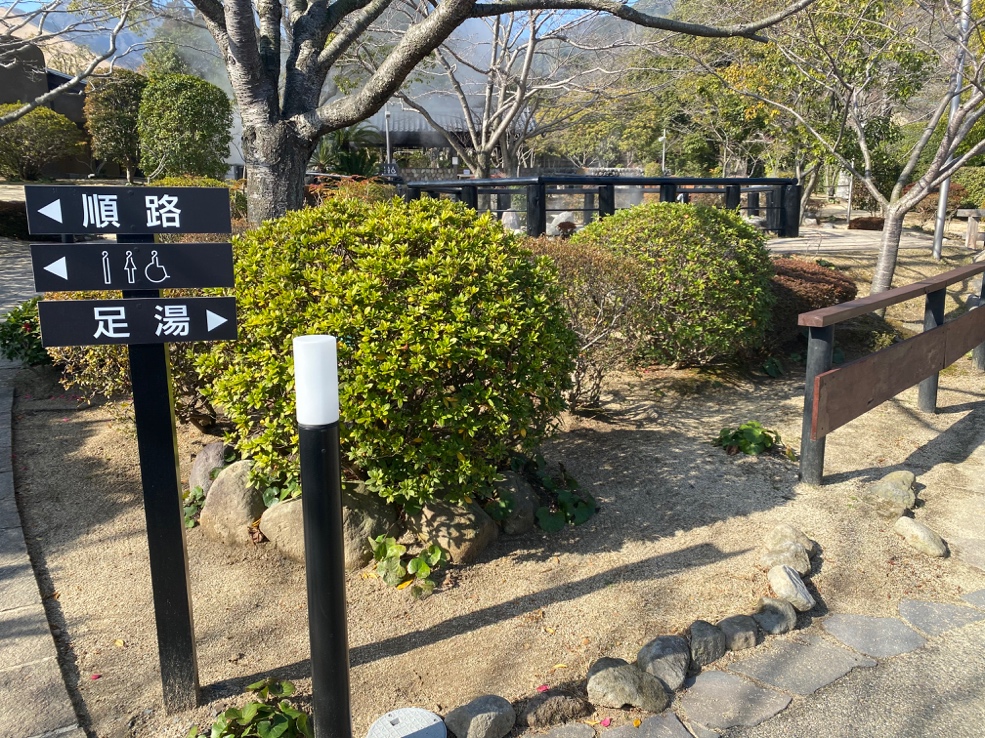 A loud "ooh ooh ooh" sound was coming from the hell. It was very cold that day, so I decided to head for the footbath first.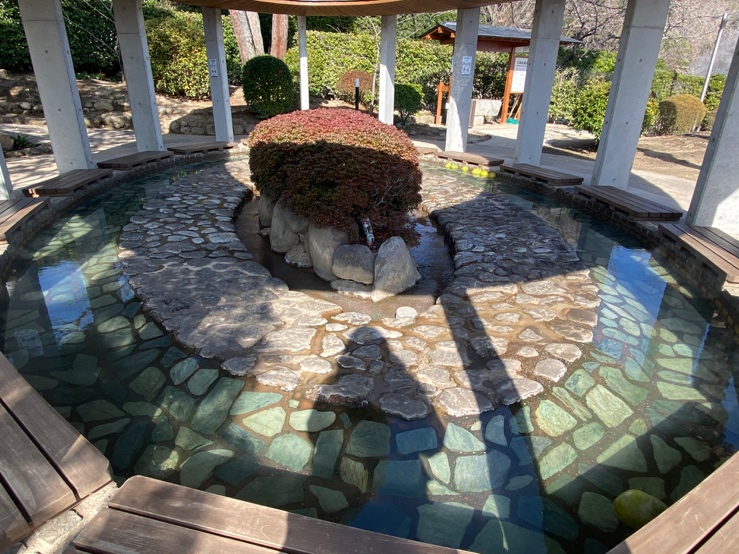 This is the footbath at Onishi-Bozu Jigoku. It is very clean and comfortable, and the soft water is comfortable for bare feet.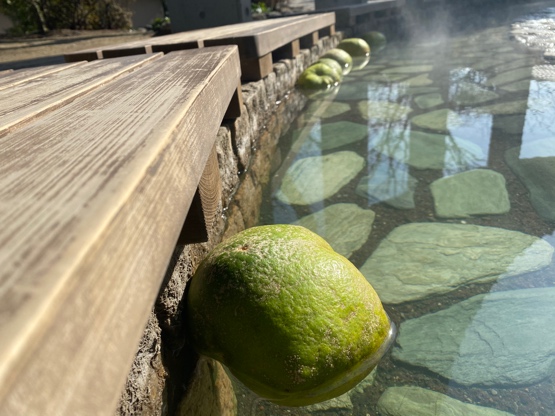 As is typical of Beppu, the famous pomelo was floating in the water. The refreshing scent is relaxing.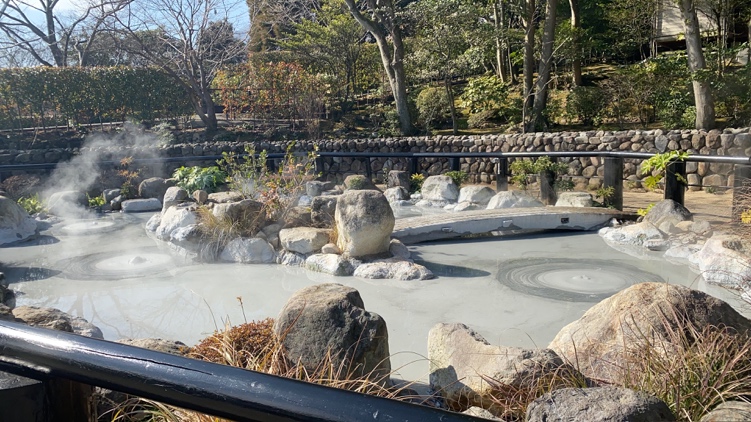 After the footbath, we went to the main Onishi-Bozu Jigoku. It is a really spacious place where you can take your time to look around the hell.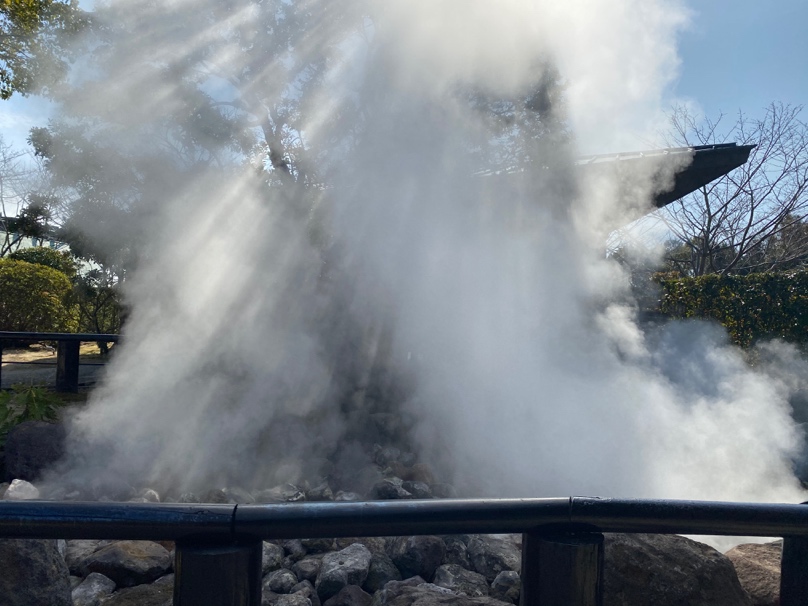 The steam billowing out is very powerful, and you can smell the sulfur from the hot springs.
I sat down on a nearby bench and watched the hell for a while in a daze. For some reason, watching the bubbles emerge and change their shapes was very soothing.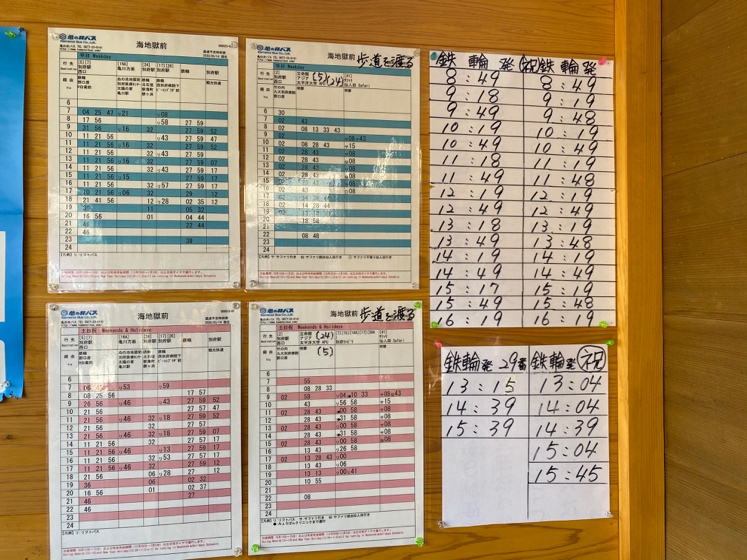 Outside is a bus schedule, and there seemed to be quite a few buses to choose from for my return.
Here is the price list for the hot springs at Onishi-Bozu Jigoku.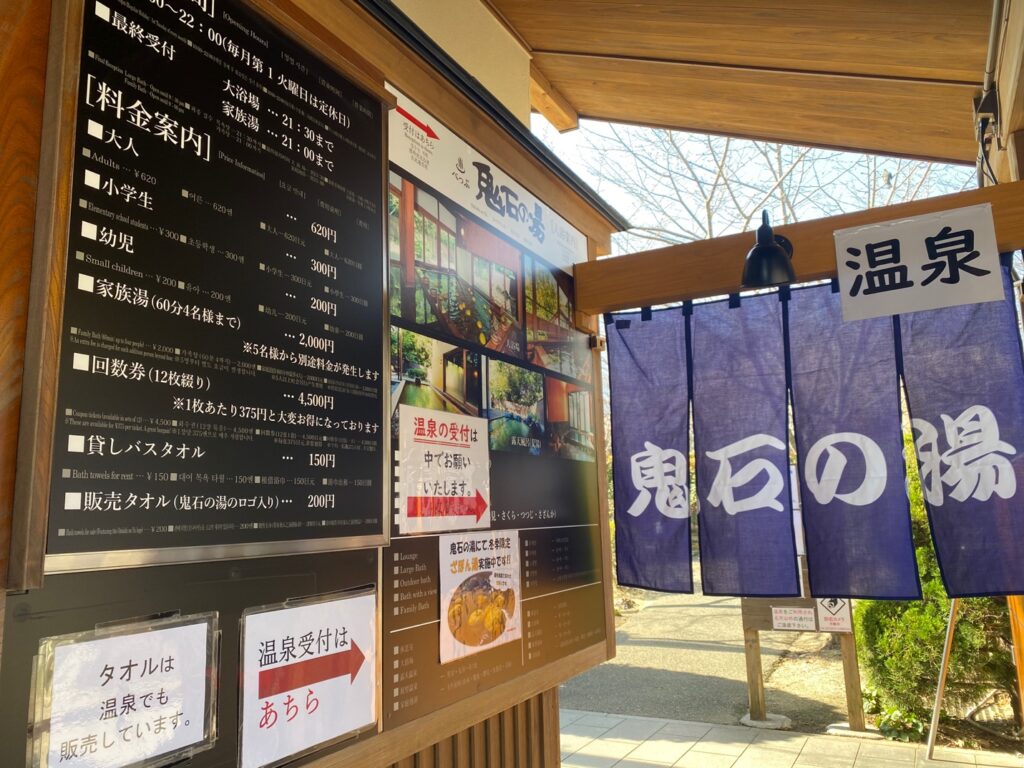 Both the main bath and the family bath are open until 9:00 p.m. (Please check the website beforehand for the latest information).
Adults 620 yen
Children 300 yen
Family bath (60 minutes, up to 4 people): 2,000 yen
There are also towels for rent and for sale, so you can drop by at a moment's notice. It is also a good place to take a break while visiting the hell.
Onishi-Bozu Jigoku: Basic Information
Admission: 400 yen for adults, 200 yen for children
Opening hours: 8:00-17:00, no holidays
Official website: :http://www.beppu-jigoku.com/bouzu/
Comments are closed.