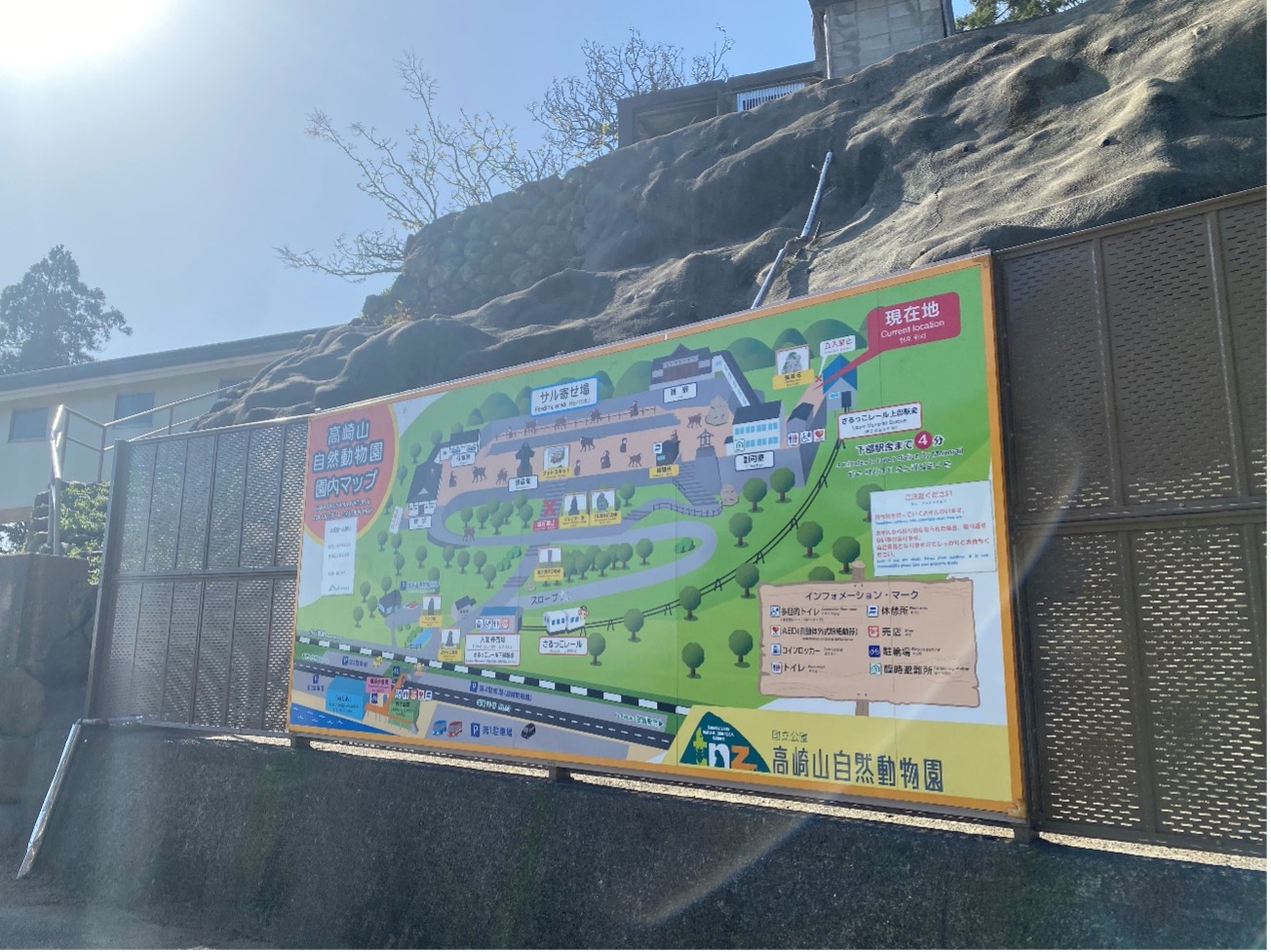 Did you know that in the area adjacent to the popular Umi Tamago Aquarium there is a special spot where you can have a very special experience? Takasakiyama Nature Park is a unique place where you can see many Japanese macaques that have been released into the wild. It is said that this is the only place in Japan where you can see Japanese monkeys in the wild. Recently, we visited Takasakiyama Nature Park, a designated national natural monument.
Mount Takasaki is about a 15-minute cab ride from Beppu Station. It was a very pleasant drive, with some sections of the road along Beppu Bay, and we could enjoy its fresh cobalt blue color.
Eventually, the Umi Tamago aquarium will come into view, and just next to it is Takasakiyama Nature Park. Near the entrance, there is a statue of Benz, the famous Japanese monkey of Takasakiyama.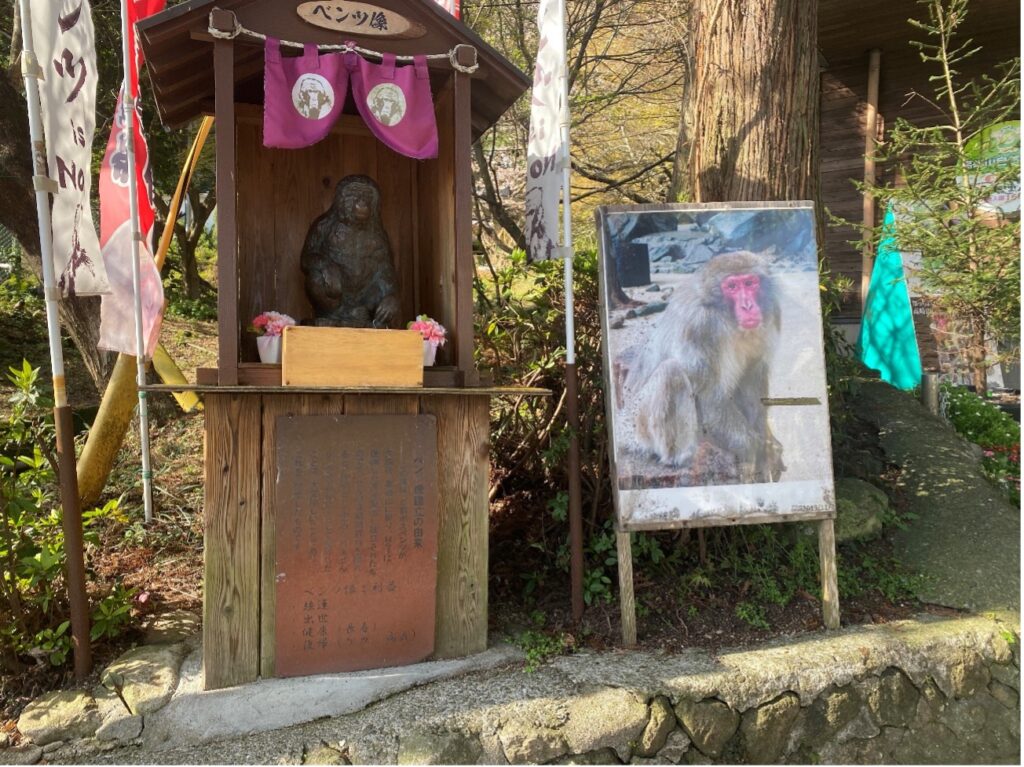 Benz is a Japanese macaque and the alpha male at Takasakiyama Nature Park. He disappeared for a while, but eventually returned to his troop and became No. 1 again. Usually, it is impossible to become alpha male if you leave the troop, but Benz did it! This statue was built to commemorate the event, and now legend has it that it is beneficial for longevity.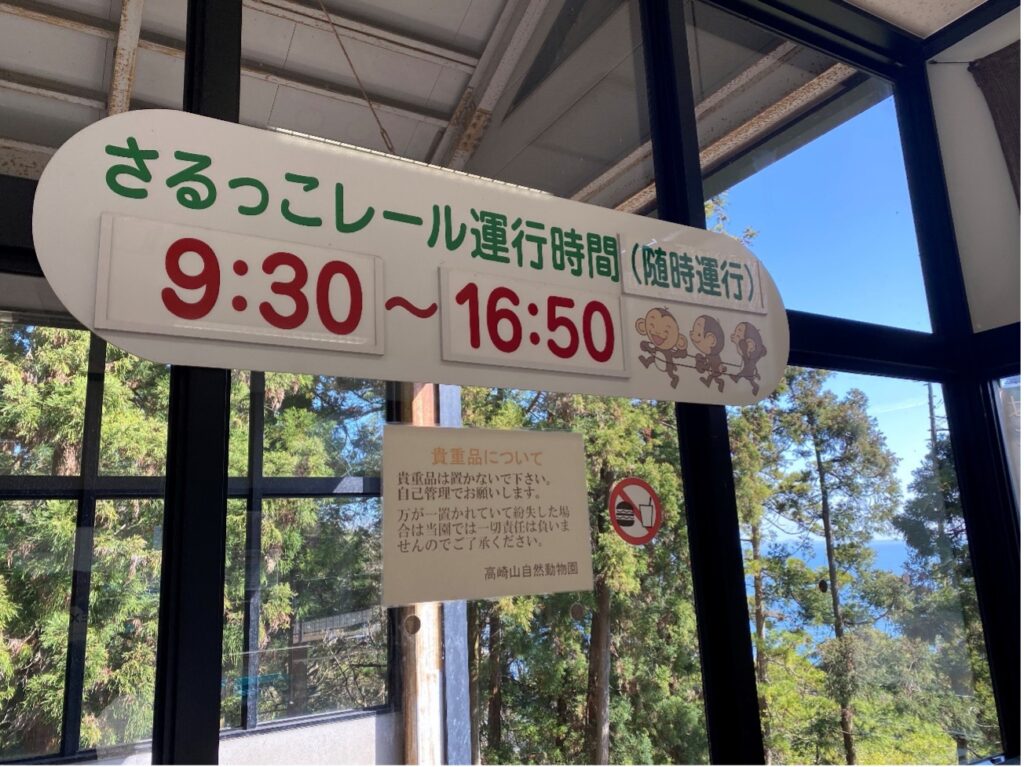 We immediately bought our tickets and entered the park. There are two courses to reach the top: a walking path and a ropeway. This time, we took the newly installed ropeway up.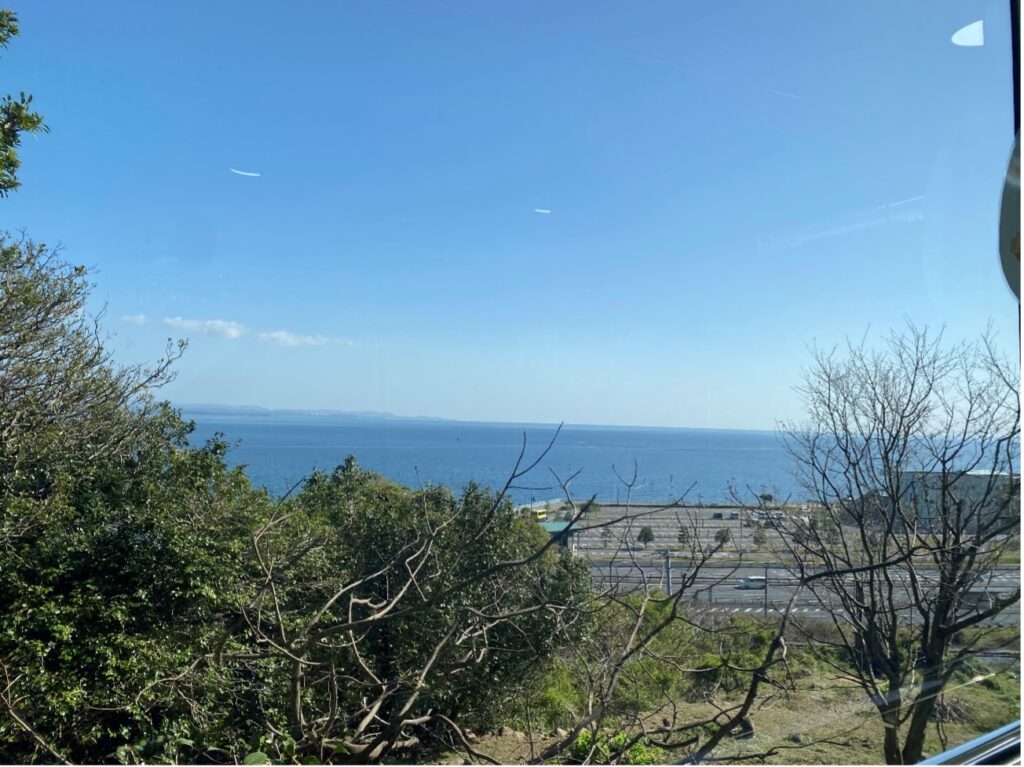 The view of Beppu Bay from between the trees is spectacular. At the bottom, there was a young Japanese monkey playing. The monkeys were small and looked very mischievous. I couldn't help but exclaim, "How cute!"
We were at the top in less than ten minutes! As we walked out the exit, we were welcomed by a strolling monkey family. The baby monkey rode on his mother's back, gazing at us with concern.
As we continued on, we were greeted by a large number of Japanese monkeys. They were from Group B, which has about 677 members.
Even though the monkeys are enclosed by a fence, they walked past us as though they were used to it. It's not easy to see such a scene anywhere else.
Inside the enclosure, there was a playground for baby monkeys, and some of them were having fun sliding down the slide. Others played on the swings with incredible dexterity, just like human children.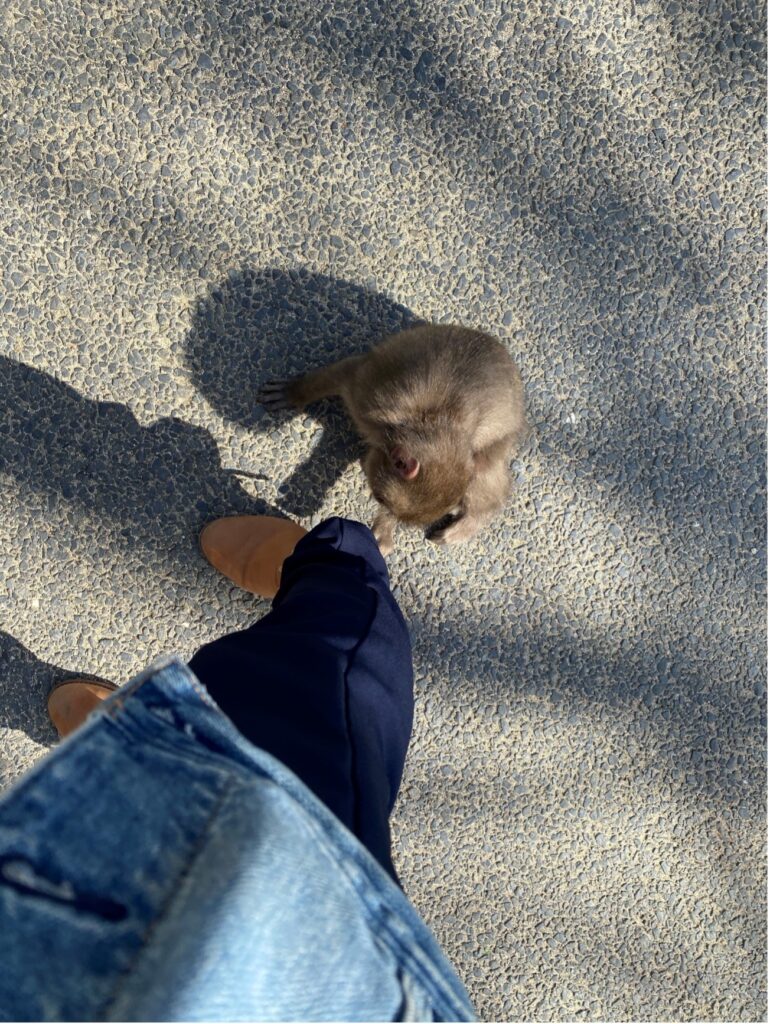 A keeper introduced us to the monkeys. As I stood listening to the explanation, I felt a tugging sensation on my foot. When I looked over, I saw that the baby monkeys were playing with my shoelaces and pulling on them. I was very surprised that they were so used to humans.
It's worth noting that there are a few things to keep in mind at Takasakiyama Nature Park.
Don't touch the monkeys.

Don't stare into the monkey's eyes.

Don't give monkeys juice or sweets.

Don't tease the monkeys.

Children should not walk alone.
Be sure to follow these precautions to avoid any problems. Also, be careful not to leave sunglasses, cell phones, key chains, etc. out in the open. The monkeys might take things if you are not careful! Be especially careful with baby monkeys as they are very curious.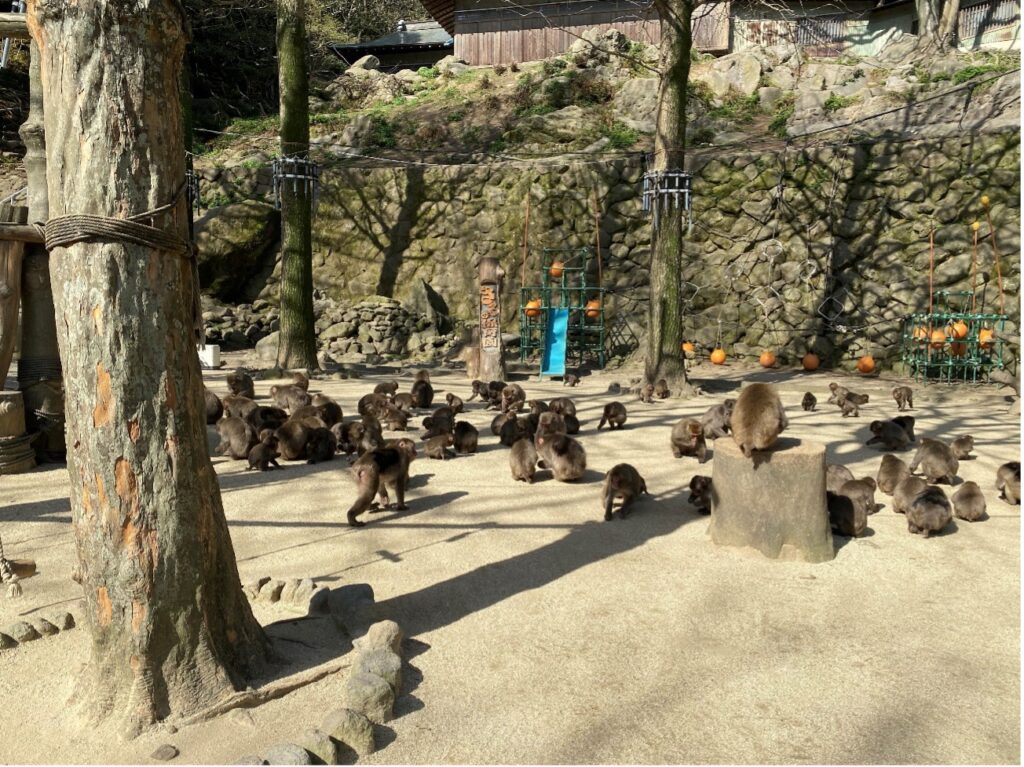 After observing the monkeys for a while, there was an announcement that it was time to feed them. Feeding the monkeys is one of the best parts of a visit to Takasakiyama Nature Park. The monkeys started to get excited as if they knew it was feeding time.
When the keeper is ready, he walks over, sprinkling what looks like corn or wheat. The monkeys then came close like pigeons. They had been scattered all over the place, but now they all gathered at once, and the enclosure was instantly filled with monkeys.
As the monkeys start to run, they don't pay attention to the people as they head towards them. There is even a saying that something good will happen if you stand with your legs apart and let the monkeys pass between them.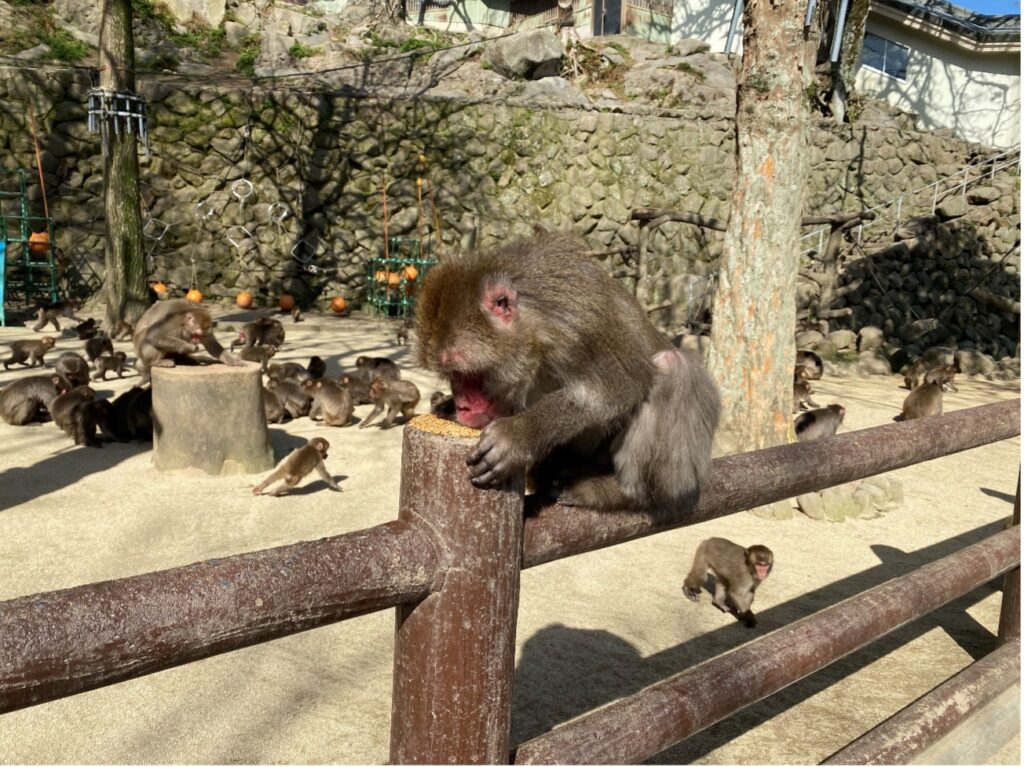 This is Group B's No. 1 monkey, introduced to us by one of the keepers. It was about a size larger than the other monkeys His name is Nanchu.
I was under the impression that fights decided who was No. 1, but according to the keeper, basically the longer you stay in the herd, the more your rank increases.
So, Nanchu is the longest-serving monkey in the herd. He is everyone's senior. He was taking all the food for himself. LOL!

When feeding time was over, the monkeys dispersed again. I also took a short walk.
The view from the top was also spectacular. It was early spring, so the cherry blossoms were just starting to bloom, and the mountain was a little pinkish.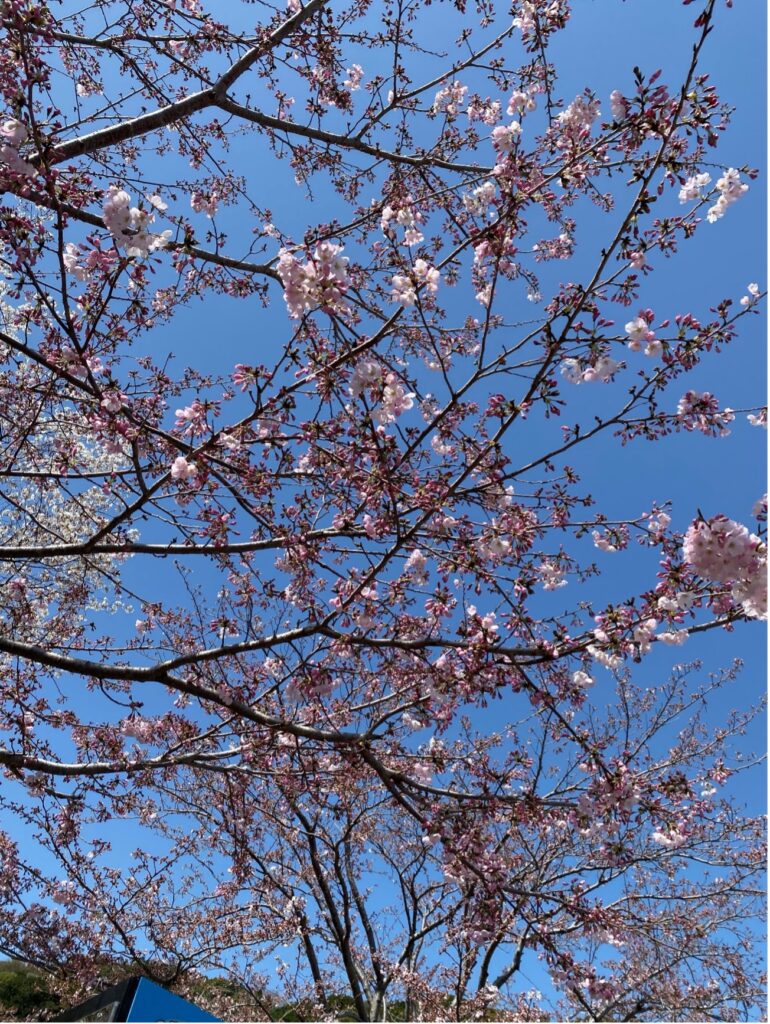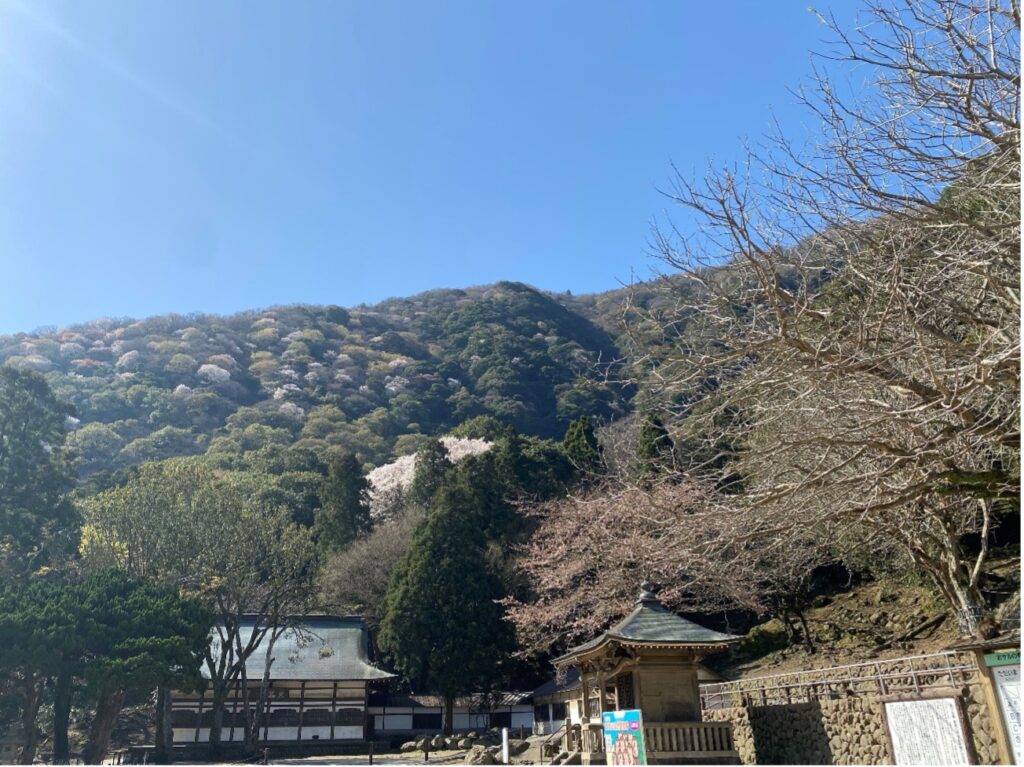 With a bit of regret, we said goodbye to the monkeys and left the mountain.
Takasakiyama Nature Park was a very relaxing spot. I would like to go back to see the monkeys again.
In early spring, it is still somewhat cold at the top, so it would be a good idea to bring a jacket. Walking shoes are recommended. The walk to the top takes about 15 to 20 minutes, so I think it's a great way to get some exercise.
Please stop by on a sunny day.
Takasakiyama Nature Park
Official website: https://www.takasakiyama.jp/
Address: 3098-1 Kanzaki, Oita City
Phone number: 092-532-5010
Opening hours: 9:00-17:00 (last admission 16:30)
Admission: Adults: 520 yen, Children: 260 yen, Children under elementary school: Free
Sarukko Rail (Ropeway): 110 yen for round trip
Comments are closed.